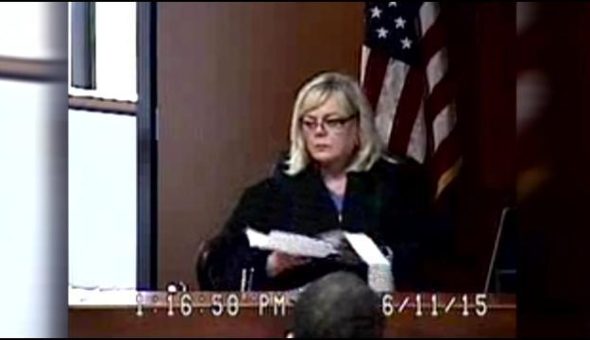 Paul Gold was asked to testify at a judicial disciplinary hearing. View the full story below, or click here to read it on WDRB.com.
Posted: Apr 19, 2016 12:39 PM EDT
Updated: Apr 19, 2016 8:52 PM EDT
Story By Jason Riley, WDRB
LOUISVILLE, Ky. (WDRB) — Jefferson District Court Judge Sheila Collins admitted in a disciplinary hearing Tuesday that she "made a mistake" in ordering court officials to charge and lock up an alleged domestic violence victim who told the judge she had lied to police.
Sitting in the witness chair of a Jefferson County courtroom, Collins testified in front of the state's Judicial Conduct Commission, which has charged her with judicial misconduct, telling commissioners she should have instead held the alleged victim in contempt of court.
"I realized after the fact that would be the appropriate way to handle it," said Collins, who has denied she violated the code of judicial conduct.
The commission heard testimony from Collins and several character witnesses for the judge, including prominent defense attorneys Paul Gold and Bart Adams.

The commission can reprimand, suspend or even remove Collins from the bench if the misconduct is proven. The commission is expected to issue written findings in the next 10 days.
During a June 11 bond reduction hearing for Lomac Jeter, who was accused of assaulting his girlfriend, Jasmine Stone, Stone told Collins she made up the story, changing the statements she gave to a police officer.
When Stone also denied an earlier sworn statement that she is pregnant, Judge Collins ordered a deputy to take her into custody and asked prosecutors to charge her with false swearing. The judge set Stone's bond at $10,000 cash. And Collins, "later refused to lower the bond even upon learning that Mr. Jeter had contacted Ms. Stone and pressured her to recant," according to the notice of charges by the conduct commission.
On Tuesday, Collins said prosecutors told her they had tapes of conversations between Jeter and Stone but hadn't listened to them and didn't know for sure if she had been pressured to recant.
At the time, Collins said she would reconsider her ruling if the prosecutor could provide proof of the threat. The prosecutor admitted she did not at the time have the tapes and would have to bring them to court the next morning.
Attorney Jeffrey Mando, who is representing the commission, asked Collins about giving Stone a higher bond than the man charged with assaulting her. Jeter was lodged in jail on a $5,000 bond.
"I didn't spend any time thinking about that," Collins testified.
The commission has accused Collins of violating Stone's rights in ordering her taken into custody without a hearing or an attorney to represent her.
At the time, Collins' actions drew a rare rebuke from another sitting judge, Jefferson District Court Judge Erica Williams, who called the action to lock up an alleged victim of domestic violence "outrageous" and "unprecedented."
"This shouldn't happen in court," Williams said to Stone as she dismissed the case in June. "What happened to you is, quite frankly, outrageous. I'm appalled at what happened to you. I'm appalled at how you were treated. …What happened to you should never, ever happen to a victim."
Gold testified he watched the video of Collins' interaction with Stone and he believed she acted respectfully and courteously to everyone involved.
And he said that while Collins should have found Stone in contempt instead of ordering others to charge her with a crime, the judge had 100 to 150 cases in front of her and had to make an "instantaneous decision."
"She handled it with aplomb and dignity and what I hope other judges would emulate," Gold testified.
However, asked by a commissioner if Collins should be setting Stone's bond if the judge is also the complaining witness in the case, Gold acknowledged he believed that "was a mistake."
Copyright 2016 by WDRB News. All rights reserved. Image